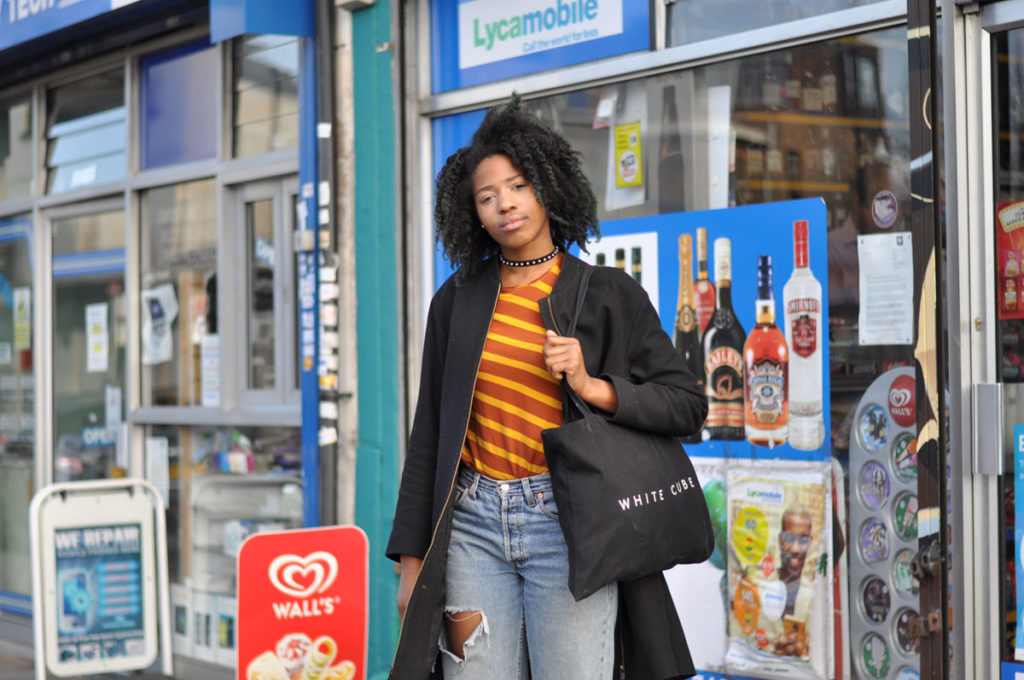 Introduction: The 10th edition of Talking to London features menswear designer and artist Bianca Saunders. The young creative who is still at the beginning of her journey spoke to us about her experience of growing up in London and becoming a designer. She's accomplished a great at this young age. Our interview indicates that she will definitely achieve success far into the future. It's 2017 and I really wanted to improve the quality of this project. For the first time I've used both film and digital photography to capture Bianca's character. Hope it adds to the great chat that we had. Hopefully many of you will be inspired after listening to this.
Audio interview is below, accompanied by photographs and selected quotes;
Instagram – @BiancaSaunders_
Tumblr – Bianca Saunders
Twitter – @BiancaSaunders_
Facebook – Bianca Saunders
Website – Bianca Saunders 

Interview Highlights
16 seconds: I'm Bianca Saunders, I'm a menswear designer. I'm currently at the Royal College of Art studying menswear (Masters).
35 seconds: So I grew up in Catford, but I spent the majority of my mid-teens moving around a lot. So I lived in Lewisham, New Cross, Brockley. I went to school in Brockley as well…. I haven't actually moved out of South so I don't really know what other areas are like to live in.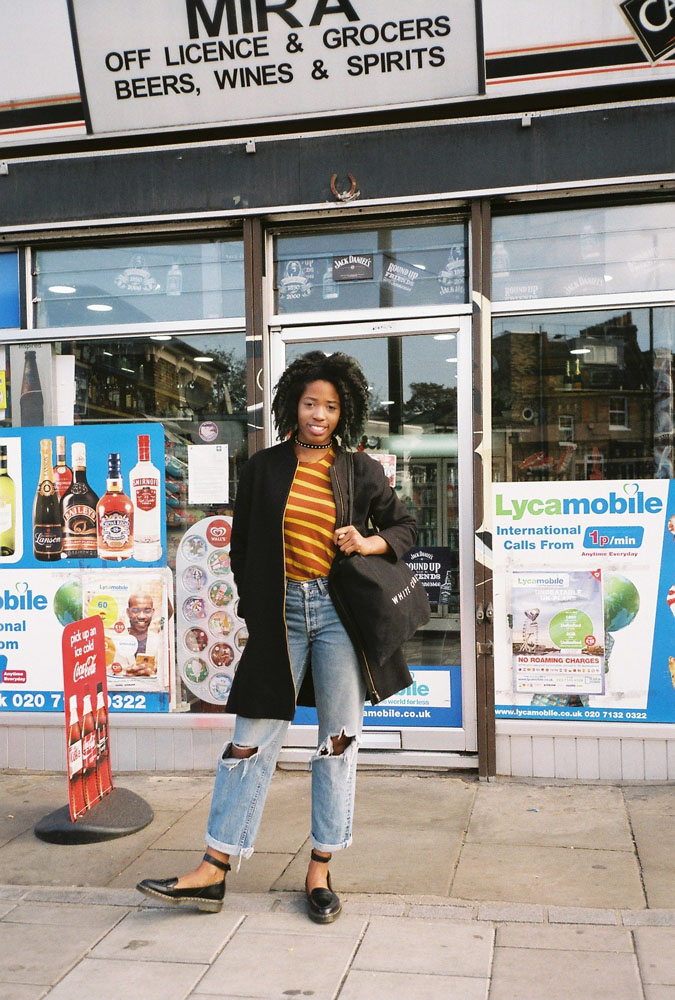 1:44 min: Oh yeah, they get really confused. So you actually went to school in London?.. People from London stay in their own area. So they don't actually get out much.
2:12 min: Zone 4, Grove Park, Catford sides you get real London people. Who have been here for like generations.
2:27 min: My parents were born here. They went to school in South London. My grandparents are Jamaican.
2:55 min: So from a young age I remember, in primary school when you had to say what you wanted to be. I always wanted to be an artist.
4:06 min: I never really won anything that big before. That was a really good experience… it was a university challenge. It was to see who could produce the most innovative… They also really liked the background story… It was inspired by my mum's aunt. She owned a lace stall in Deptford Market. We used to go there like every Saturday. And then she had five sons. It was all inspired by how they integrated from the West Indies to here.
5:23 min: It first started off like when I saw the Return of The Rudeboy exhibition at Somerset House. I was thinking like, this is actually is my culture. My parents and my mums cousins have actually experienced. To see it on that level and be displayed that way. I was thinking why I can't I use… people I can actually connect with and interview them. Use real life stories to create fashion projects.
6:06 min: I feel like a lot of… I guess, black culture hasn't really been put on to the that level. It's very… what's the term for it? It's quite removed. So it'll be more like hip-hop culture. People will find these random pictures and kind of use it and make a collection out of it. It's not really authentic. I feel like, if I have that authentic information, why not use it and put it out there as part of my work.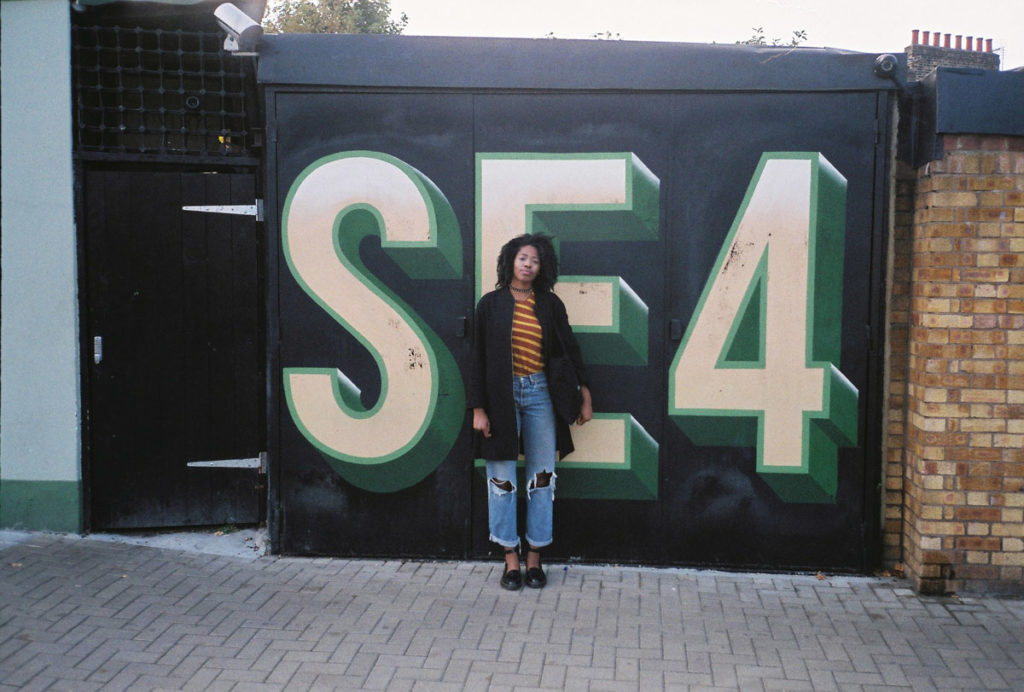 7:16 min: So, I guess my work , I like to see it as a social document tree.
8:04 min: Oh gosh I don't if I wanna make it that personal. It's quite like putting yourself out there. When you make your work really personal.
8:31 min: I interviewed Sam King, he recently died this year (2016). He was one of the founding members who started carnival… Everyone was trying to help me out. I was like, can I see everyone's family albums? Try and do actual scans of pictures. Grab information from that era. That's were the flares came into it. The lace and all those textures.
9:18 min: In school they didn't really tell you a lot about the commonwealth people… In history classes they didn't really show you those people and those images.
10:48 min: In fashion they do expect you to do a lot of research. I feel like that's what develops collections.
11:17 min: Fashion, I feel like you get taught like an artist. But you don't realise it on the outside. Why do you have all this information? Just to make the clothes.
12:34 min: A lot of  what they wear (West Indians) has become their own. Clarks and string vests, that was originally a British thing. It has become a part of their fashion. I wanted that to be part of my actual brand… The green bomber jacket is from Ozwald Boateng.
14:06 min: After I saw the Basquiat documentary that really become one of my influences. I liked how his work was very  subliminal in a way. Some people may see it as very childish, but a lot of the messages he was trying to say and incorporate into his work were very cryptic, and about what was going on in his actual life. Society and how he was seen in his actual world…. Today I feel like he's influenced a lot of people.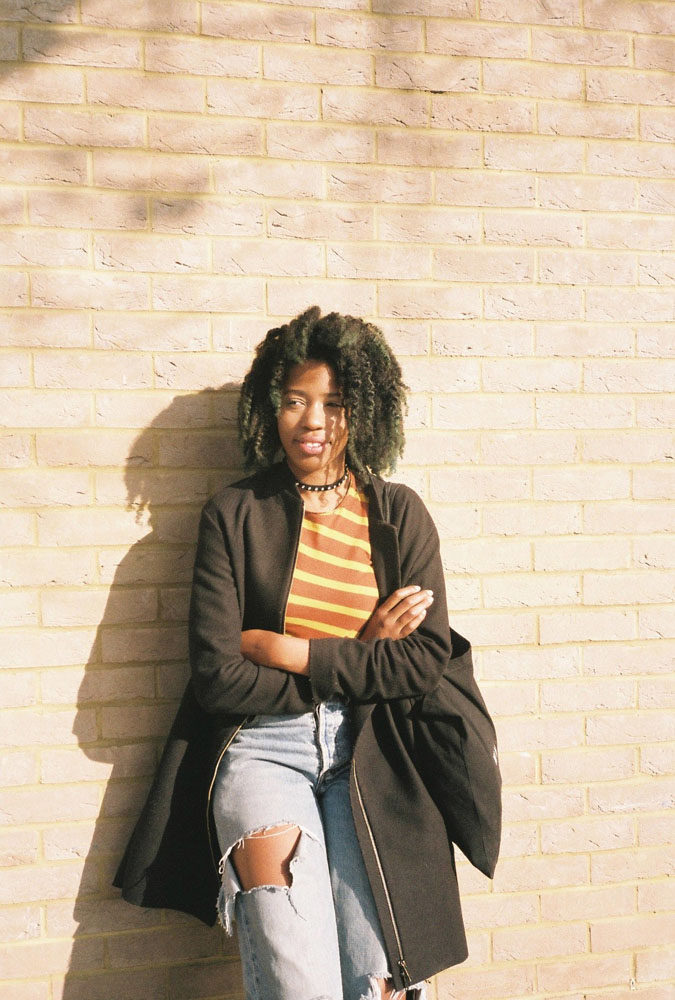 15: 42 min: I feel like what's really influenced me when I started to do menswear was when London men's collection came out. That showed me the possibilities of how far you can take menswear… People such as Craig Green, Grace Wales Bonner, Astrid Andersen they're really inspiring for what they've done for menswear. Especially in London.
16:42 min: I feel like all my education that I've had so far has helped me make really good connections. Like Adama she does a lot of social documentary photography.
17:50 min: From going to Kingston my actual tutor Andrew Ibi. I think he's influenced me the most. We have really good conversations. He's also a mentor… He said you should apply to do your masters.
19:05  min: The people I've met at the RCA are just amazing. They've showed me the possibility of collaboration and how far you can take fashion.
20:12 min: The way they (RCA) kinda push creativity is just insane.
21:16 min: Just because you're a designer doesn't mean you're just a designer. You can have an installation that's part of your work. Being a designer is like a creating your own movement in itself.
22:40 min: I always get questioned a lot like, you do menswear? Like, why is that?
22:49 min: The reason I do menswear is because I am a good menswear designer… It (menswear) gave me less limits to what I'm trying to create in a way. I feel like womenswear is over done.
23:53 min: Some of my stuff is unisex in a way. You can tell there is a feminine touch to it. But I like my things to be strong in masculinity. But I've been exploring that a lot recently.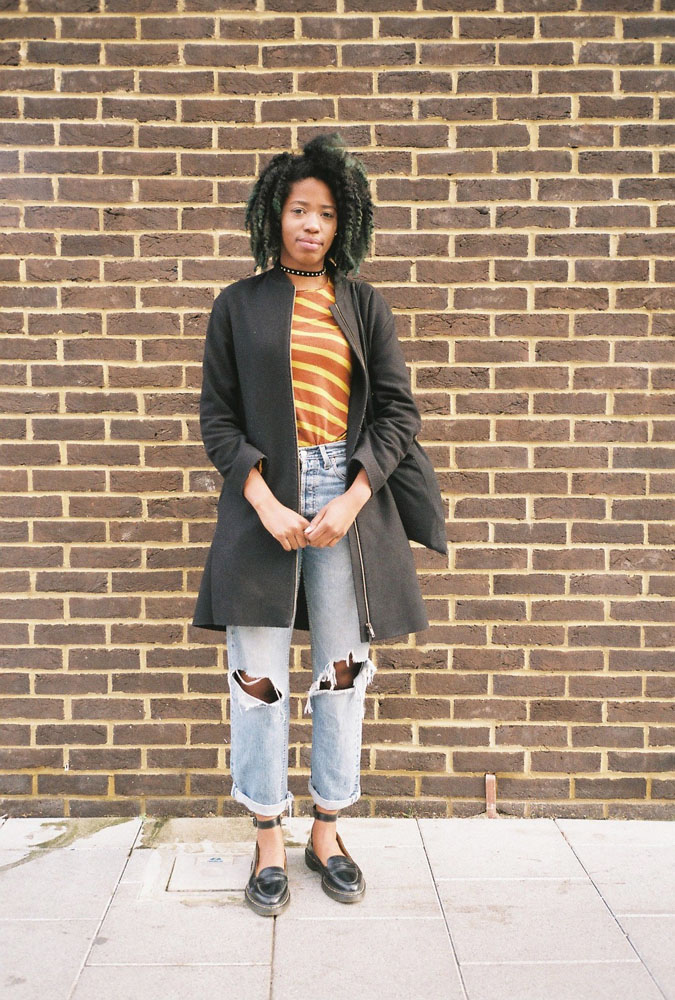 24:45 min: I came across an Instagram comment and some woman was like, why are they always trying to demasculinise black men all the time? What does that actually mean?  Why can't the guy just be who he is.
26:24 min: I wouldn't say it's made it harder for me. I feel like it's just made me notice myself a lot more. Especially at like Kingston University I was the only black person on my class… Then at the RCA (Royal College of Art) I'm the only black person in my class or person of colour.
27:34 min: It was really hard to meet people. I think that's what made me notice myself a lot more. That's probably why my work has become very directed around my actual identity. It was more the questions… When you're the only one, people always direct questions at you. Or they'll say really ignorant things.
28:28 min: One time I had this conversation, I was like, it's black history month. There was one girl who was South African and another girl… They're were like you have black history month? It's a thing? The schools that they went to never really put it out there.
29:18 min: It's almost like you're trying to re-find yourself in a way. Trying to understand things like. To understand the world. I even question why do you make a lot of your identity. It feels like whenever you mention the term black people, it's political. Why's it seen as political? When someone is oriental it's OK. They can talk about it. You can discuss it. You can make a collection about it. You can make artwork about it and people will come and see it. And they won't see it as defensive or separate. Why do we feel like the term black or any person of colour is different from any other culture? Why can't we just remove the term political from black. And it can be that we're just discussing identity? There's nothing wrong with that.
31:38 min: I've had like people DM and be like, what's it like being a black creative in London? Do you experience any troubles and that kind of thing. I haven't experienced any of that yet. But, then to be fair I'm quite early in my career.
36:18 min: I think I just wanna expand what I've done in my education. Art and things like that. Actually introducing sculpture work into my practice. It's almost like, being a designer now, from what I've been taught at the RCA, it's not just your a designer, you're a bit of everything.
37:18 min: I definitely want to do a exhibition. I feel like the research that I do is quite extensive. I feel like it need to be shown… People may find the research as interesting as the actual design work.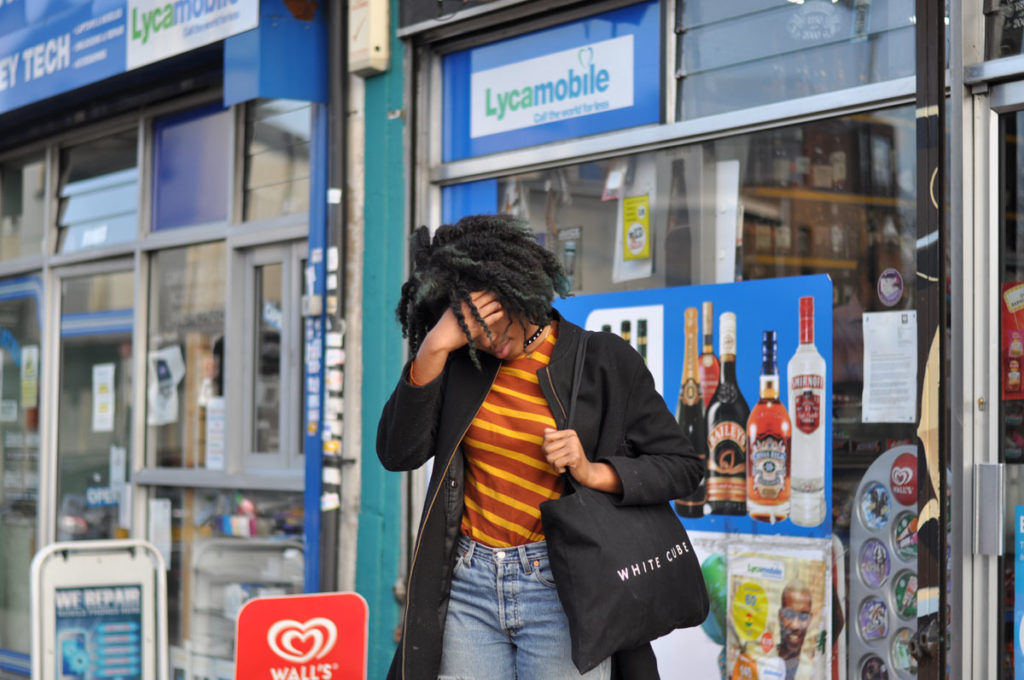 Talking to London 9 – Sukhraj – Sikh Talk
Talking to London 8 – Niccita – Keeks Sytling
Talking to London 7 – Sahib
Talking to London 6 – Georgie (Drumz of the South)
Talking to London 5 – James
Talking to London 4 – Alec
Talking to London 3 – Mayur
Talking to London 2 – Mahtab
Talking to London 1 – Lee