6/16 (1/11) #ImmigrantLandscapes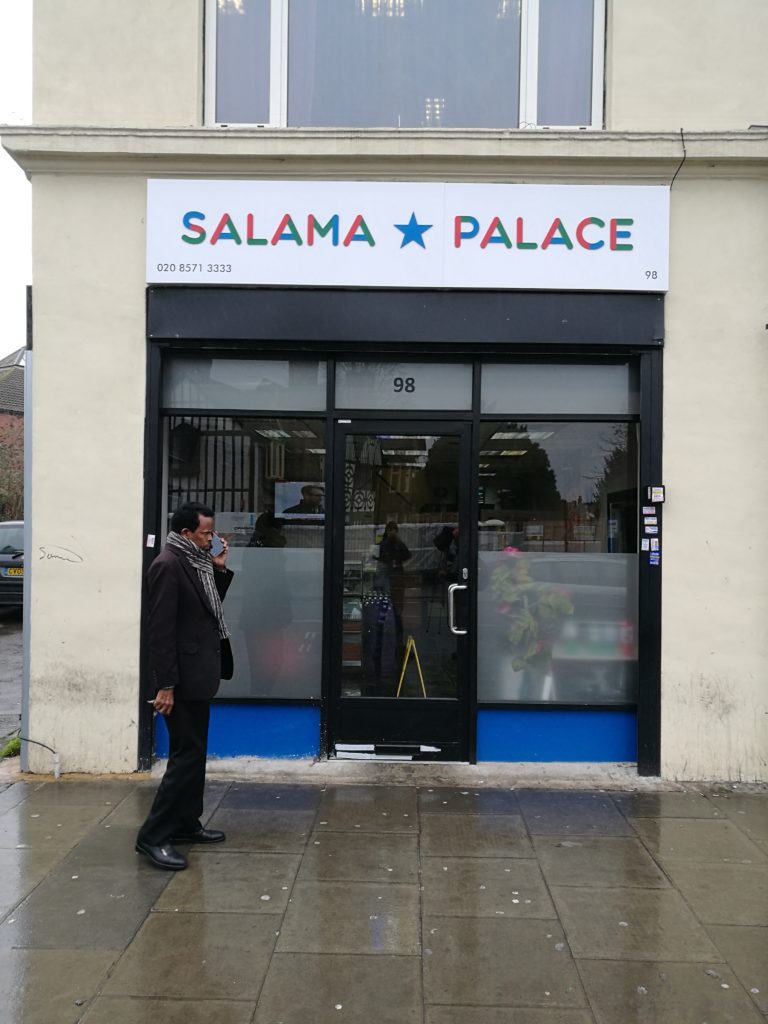 Words: Hark1karan
Salama Palace – Southall:
Narvir Singh started a mini series called immigrant landscapes, looking at Southall as a space in how immigrant lives are played out. He documented this in five phases through his personal observations and expierences. Myself and Sikh Talk took inspiration from this to take this a step further. We set out on this journey without knowing what to expect and we were pleasantly surprised by the stories shared with us by the people of Southall. This will be an ongoing series in Southall and other parts of London (and why not globally). We spoke at length with a number of people photographed in this series so they can tell the story of Southall from a number of perspectives of which the immigrant is one. We are simply the people sharing the story. Myself and Sikh Talk will no doubt also connect our personal experiences into it as our families are cultural linked to the area too. A blog with the recordings will follow as we share the series.
In our first installment, we spoke with Mohamed who works at Salama Palace a Somali cafe/restaurant. Originally from Somali, he has resided in Southall for over 18 years. Not many people are aware or share stories of the Somali community. It's important to understand that Southall is not exclusively a Punjabi/Sikh space. He said the area has improved in terms of cleanliness and improved road infrastructure. However the business side of things has decreased due to the changing demographic of the area and people moving to Hayes, and surrounding towns. A new Somali community is building it's roots in Hayes. One of the stand points from our conversation was his respect for the area and how a diverse range of people share the space they call Southall.
7/16 (2/11) #ImmigrantLandscapes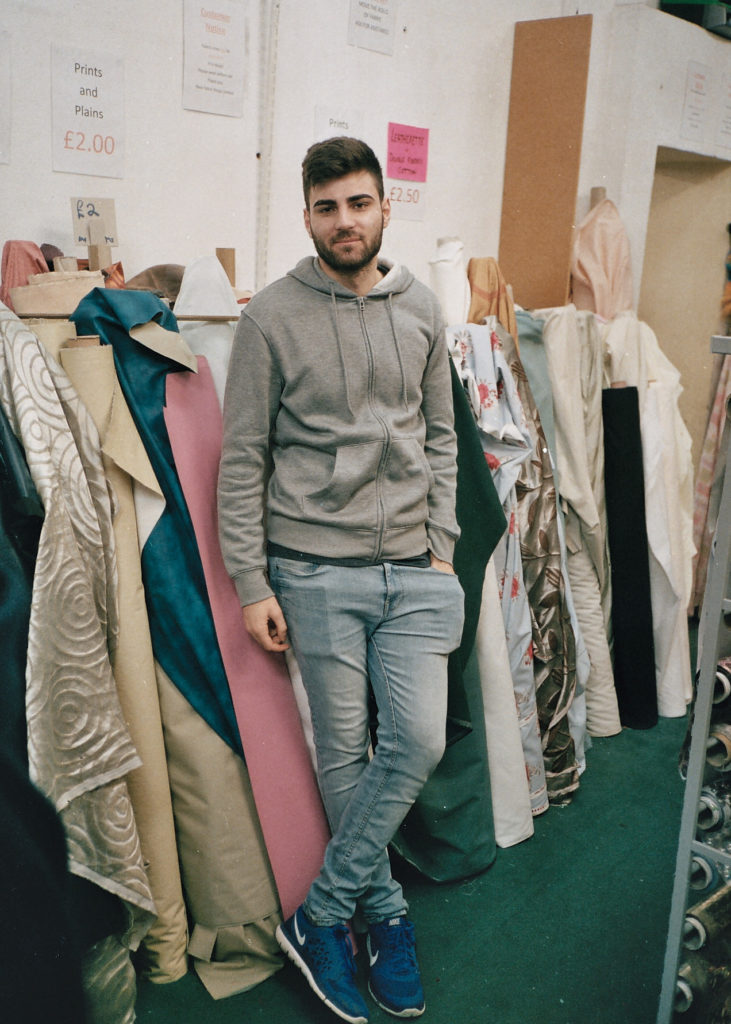 Words: Hark1karan
New Fabric Shops (Michael) – Southall:
The 2nd installment features Michael of New Fabric Shops on The Green. Going into the shop myself and Sikh Talk didn't know what to expect and whether if anyone would speak to us. We had quite the opposite. We were met by a friendly man called Michael of Cypriot descent. Not perhaps what you were expecting from a fabric shop in Southall? Well his father has been running the store for 25 years. It was extremely easy to talk to Michael and ask him about Southall and his interaction with the area.
So what has he observed. He resides in North London so it's not an area he lives in, but frequents regularly for work. Often customers speak to him in Punjabi however they soon realise he doesn't. A few wanted to speak to another assistant. Despite that he is able to serve customers and meet their needs. He is still able to understand the tastes he needs to cater for. For many language is a barrier, however this can be overcome when both parties work together, which is the case in this scenario. Immigrants have a history of setting up businesses areas where they are minorities and succeeding. This is an example of a minority within a minority. The owner employing his own and people from the communities which make the up the diverse South Asian/African mix of the area. No doubt this will continue to change as Europeans also become part of the customer base. Most importantly they are able to offer affordable prices to customers who work minimum in most cases. Michael also stated that people are moving further afield as employees and customers move up the social mobility ladder. He did say house prices are increasing rapidly. Could Southall be gentrified? Is this something Southall is ready for? How will a community set on being landlords cope with the cultural and social changes?
From the onset of our duration, the vibe within this particular business felt positive. Our 30min visit let us obverse the diversity of customers and how such a place services migrant communities in the area. From the looks of things, it will continue to do so for a long time. We will be dropping a blog with 3 recordings myself and @sikhtalk conducted. Look out our 4:30min recording of Michael when the blog is up.
8/16 (3/11) #ImmigrantLandscapes

Words: Sikh Talk
Jaspal Tailors – Southall:
This picture reflects, for me, the struggles of a migrant with respect to their trade. They are good migrants when they are skilled, contribute to the economy and provide a service. But paradoxically they can, at the whim of a national headline the very next day, become a bad migrant because they've taken someones job and all of a sudden, they become enemy of the state. Unfortunately, we are feeding the exact same narrative when it comes to Syrian refugees. The white liberal will argue that they are Doctors, engineers and teachers in the defense of refugees to present their case for asylum. To say that they 'deserve' their right of entry and that the others somehow are less deserving and a burden to the state.
When will we realize that no matter how much we 'contribute' or sacrifice our lives for this country and thousands of hours of hard working labour to the economy until the day we die, that we are not wanted here. The truth is that this country will avoid and escape being held accountable for creating the refugee in the first place. And instead, they are fixated on the offspring of migrants and refugees to being extremely thankful to the host country for taking them in. The same host country that decimated their homeland.
9/16 (4/11) #ImmigrantLandscapes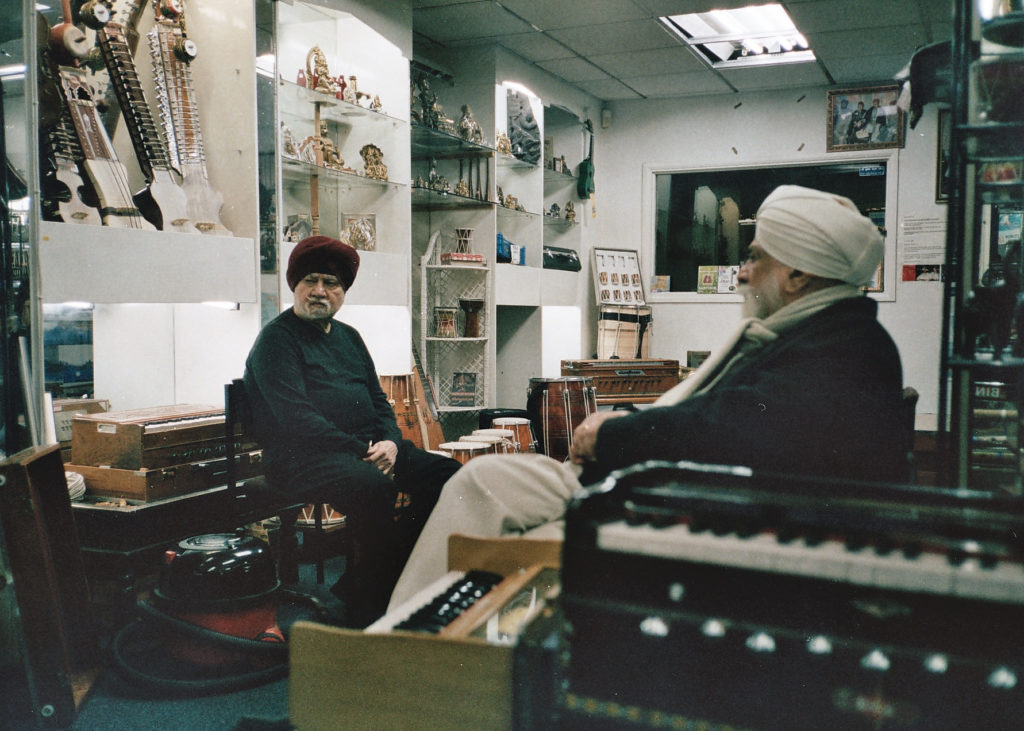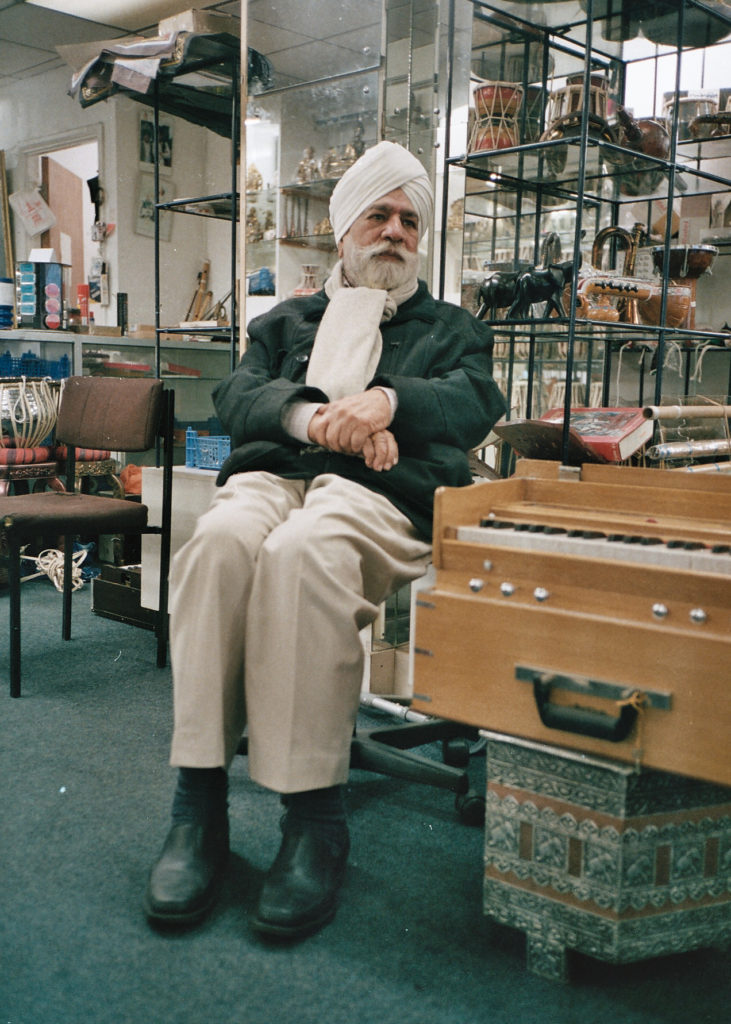 Words: Hark1karan
Bina Musical – Southall – Kirpal Singh Bhamrah and Kuldeep Singh Sura:
So here's what went down at Bina Musical. Myself and @SikhTalk were told many stories about the store, the area and the journey to England. Kuldeep Singh Sura was born in Kenya. He went back to India and then later returned to Kenya in 1957. Eventually migrating to Romford, Essex, England in 1969. The only brown family in the town, he states how nice the white people in his area were he adds. He told an anecdote from his daughters headteacher, who told the whole school that they all ought to learn from Mr Sura on how to organise their children. His children never messed around and were seen as examples of excellent parenting. He then told the story of how his daughter was slapped by a student and called a Paki. Mr Sura said go back to her and say, "if it makes you happy slapping me, then continue." The girl began to weep and is now best friends with Mr Sura's daughter. Remarkable! An example of how the tide can change with humility and self respect. This perhaps may not be the story you were all expecting. Don't shoot the messenger. This example does echo the paradoxical relationship that Punjabi Sikhs have with colonial and imperialistic Britain to this day.
Furthermore, Mr Sura came to Southall in 1979 to look for a business spot on broadway. He said the owners of businesses on broadway would not sell their space to South Asians in any way. This is why they settled for spots along The Green, hence the name "old Southall", compared with "new Southall" which refers to Broadway. And over time the area changed as white flight drastically stirred the landscape of Southall. This is a prime example of how integration (which is a two way process) was suppressed at a social/cultural and economic/business level. People wanting to set up a business and contribute financially. People wanting to dance, eat and pray in a different way, looked upon as savages, despite their "service" to the "commonwealth". Ethnically divided pockets exist all around the UK and stem from such lack of humanity and propaganda.
10/16 (5/11) #ImmigrantLandscapes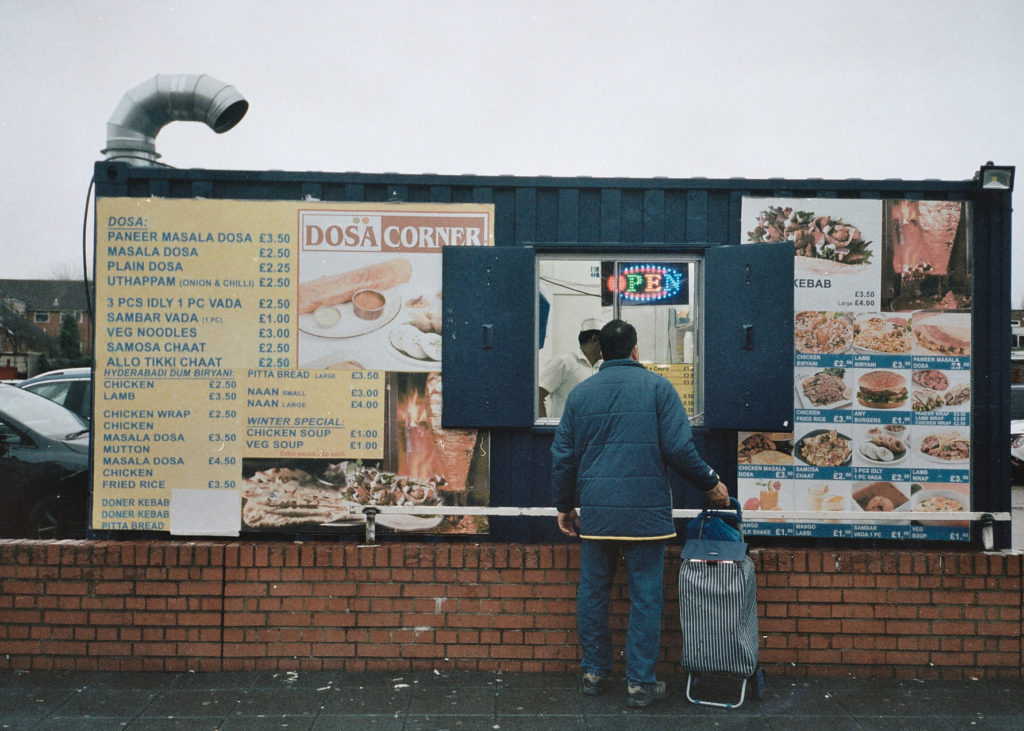 Words: Hark1karan
Dosa Corner – Southall:
Southall's very own one man Box Park. Affordable, reliable and tasty food. An overwhelming majority of customers are migrants who are most likely working labour intensive jobs with low pay. The food is one aspect that can bring pleasure and comfort in times of hardship. It would be interesting to see how many of the customers are actually UK born. Imagine if my man had some tables and chairs, he'd be killing it standard. Also notice how the most popular dishes are vegetarian and at the top of the list. Hopefully the local council can help him expand out of the container.
11/16 (6/11) #ImmigrantLandscapes
Words: Hark1karan
Transportation – Southall:
Myself and @sikhtalk continue the series with… Transportation – Let's face it, transportation is expensive in the UK and especially in London. Sometimes any mode of transportation can save money. Even a rusty old bike beats sitting on 2/3 buses to get to work during rush hour. Having extra cash for a banger or a travel card is not within everyone's reach. I guess being a taxi/cab/uber driver is a good idea as you can kill two birds with one stone. Utilise every resource and remove emotional attachment from material goods.
12/16 (7/11) #ImmigrantLandscapes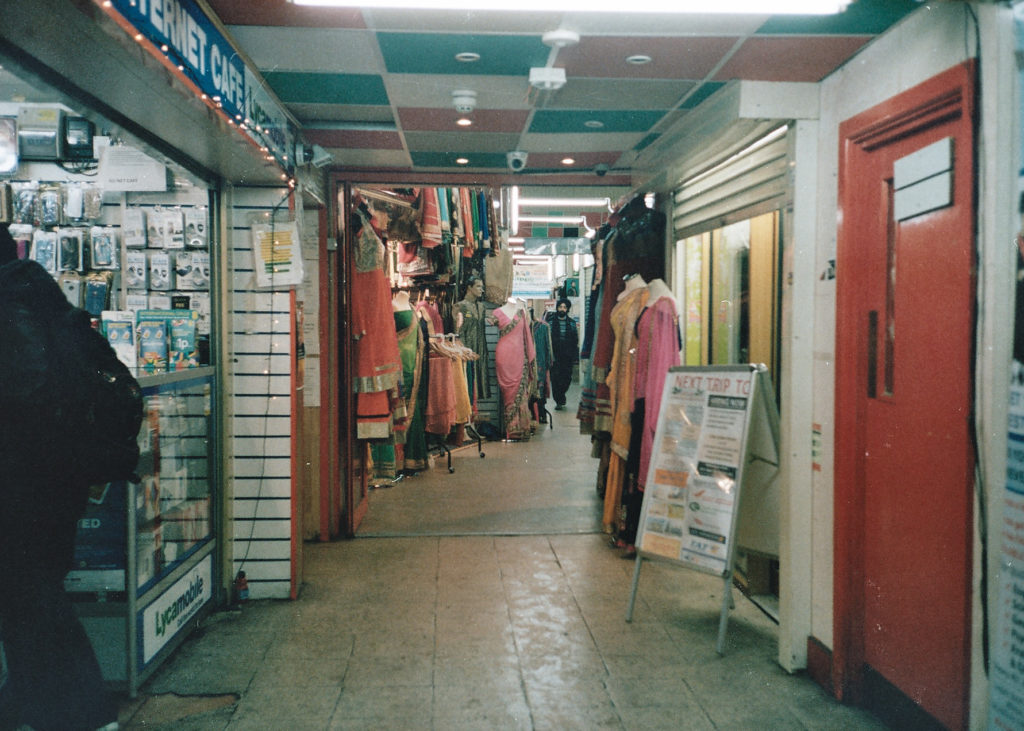 Words: Hark1karan
Palace Shopping Centre – Southall:
A safe place for migrants to shop at small specialist and independent shops. Tiny pockets work as shops to cater for the particular needs of differing communities. This could be s tailor, clothing specialist, house hold items, travel agents or money transfer. You can also haggle if you really want a bargain, despite profit margins already being low. Grassroots independent businesses and entrepreneurs.
13/16 (8/11) #ImmigrantLandscapes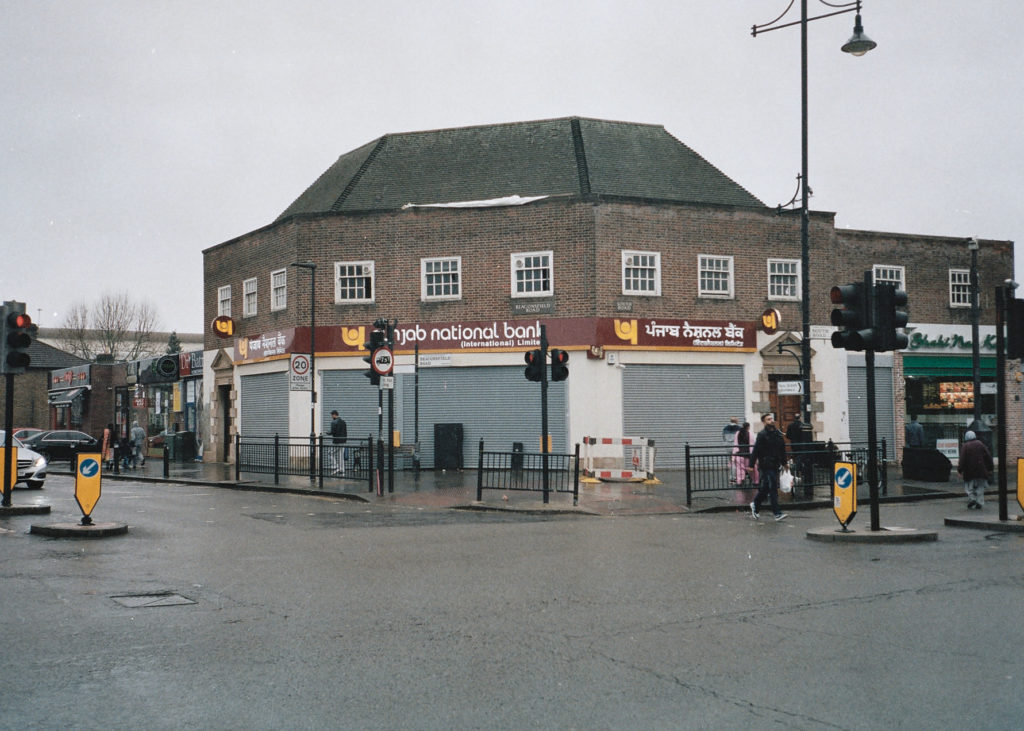 Words: Hark1karan
Punjab National Bank – Southall:
Where do I start? Many of the people living in Southall have roots in other countries. They basically have two homes. Could say they're world citizens (not migrants, maybe they're expats :p). Punjab National Bank makes it easier for people to continue their financial activity once they arrive in areas such as Southall. It's potentially easier to send money back home to family and friends. I am assuming that they provide a service both in English and Punjabi. And they even have a decent exchange rate for people travelling in and out of India. Oh yeah and let's not forgot the ease in which black money can be laundered across borders. Wonder how many transactions are fraudulent?
14/16 (9/11) #ImmigrantLandscapes
Words: Hark1karan
Pay and Sleep (Hostels) – Southall:
The colourful Pay and Sleep hostels just by the bridge and Southall train station. Super cheap accommodation for those on a shoe string budget. Similar to something you'd come across when backpacking.
For those on below minimum this is a great option. Many people can share a space over night if need be. It's in a great location. 30 seconds from the train station. 'Rumour' has it that certain men even take….
15/16 (10/11) #ImmigrantLandscapes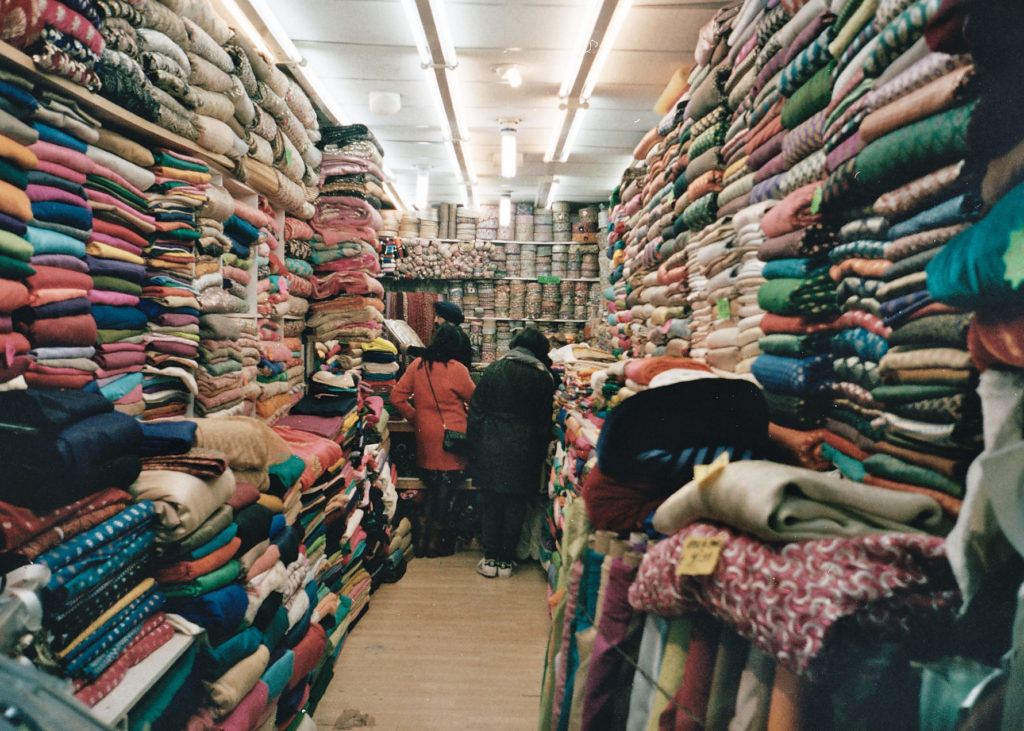 Words: Coming soon.
Anmol Fashions (Southall)